2021 Innovation in Education Festival

At MLC, we encourage our students to embrace their uniqueness, and be brave and bold as they develop new ideas about themselves and the world around them.
As we embolden our students to be flexible thinkers who are creative and innovative, so must we, as a College and as a staff team, be inventive thought-leaders in education.
We are very excited to be hosting the inaugural Innovation in Education Festival at MLC this year. This festival will bring together school and tertiary educators as well as industry leaders and entrepreneurs to interrogate the typical approach to schooling and share ideas about how we are building schools of the future right here in Perth.
MLC has teamed up with the CSIRO, The University of Western Australia and BOP Industries to bring this vision to life. As Director of Innovation, I'm personally excited to be a part of the driving force behind this festival, which recognises MLC's position as a trailblazer in the innovation space.
We have worked alongside festival partners BOP Industries on some future-focussed programmes for our MLC students, but we decided it was time to get more teachers involved in the conversation around innovation in the classroom.
During the past 18 months, we have transformed the way we think, the way we work and the way we educate. There have been some phenomenal advancements in the education space and it's the right time to take the opportunity to be futurespective and collaborate.
We will host some incredible and inspiring keynote speakers, including MLC's very own Collegian and SheCodes Founder Kate Kirwin, alongside CEO of The Royal Flying Doctor's Service Rebecca Tomkinson, UWA's Professor Anas Ghadouani, and Managing Director at Sandpit Sarah Coleman. We also look forward to welcoming Principals Dr Alec O'Connell from Scotch College, Donella Beare from St Stephen's School and Alan Jones from Christ Church Grammar School who will present alongside our MLC Principal Dr Marie Perry.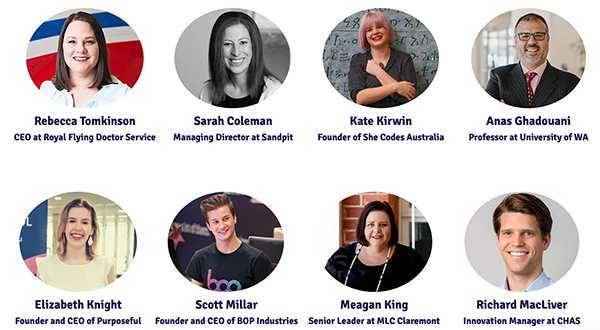 The panel discussions, workshops and keynote speeches will focus on topics such as the Future of Generation Z, the Power of Young People, Industry and Corporate Innovation, Careers in STEM, StartUps and Building Schools of the Future.
The festival is open to all educators from across Western Australia and an online element of the festival will ensure teachers from across the country can also listen in to gain valuable insights. Our MLC staff will be able to access the festival content online and many will be a part of the action on campus.
It has been a delight to witness our organising team of MLC staff embrace this progressive project. Their passion for creating a better future for students to ensure they are successful in the workplace of the future is truly inspiring.
As a team at MLC, we are committed to being 'Smart Brave'. This means the decisions we make about the introduction of programmes and initiatives demonstrates our appetite for risk but are also solidly grounded in a research.
Role-modelling innovative practises as staff and as a College is integral to paving the way for students to follow. As always, we aim to inspire our students to think differently and flexibly through implementing curriculum advancements and industry developments.
Find out more about the Festival.
Meagan King
MLC Director of Innovation