Boarding
Located in the Centenary Building at the heart of our beautiful campus, the Boarding House is a home away from home for girls in Years 6 to 12. We pride ourselves on creating a safe and comfortable environment where our girls are free to live, learn and grow. The unique bond they get to share throughout their boarding adventure creates a sense of sisterhood and friendships that last a lifetime. Girls from across Australia and all corners of the globe come together in the MLC Boarding House, each contributing to the rich cultural tapestry of our College and community.
Our Team
Led by our Director of Boarding, Mrs Jodie Mellor, our team is comprised of skilled and caring professionals who embrace and reflect the values of the College. Jodie is joined by our Assistant Director of Boarding, Mrs Sharon Marron and a team of House Assistants, Recreation Officers, Boarding Tutors and a Boarding Academic Mentor. Together, our Boarding staff strive to create a warm, collaborative and safe space for your girls, so you can be confident of her environment and the wonderful benefits of living in a home away from home.
Our Boarding Team have diverse backgrounds and profiles, deriving from local, regional and international backgrounds. Our staff are selected for their passion for working with adolescents and each brings with them a wealth of knowledge, experience and skills. There are a minimum of two Boarding Assistants on duty overnight to ensure the smooth running of the house and that our girls' needs are met. 
Our Facilities
Our Boarding House has a maximum capacity of 90 girls, which allows our staff to build personal rapport quickly and really get to know our girls. There is plenty to do in the Boarding House – whether it is cooking up a storm in our fully functional kitchens, getting your sweat on in our highly equipped gym, or squaring off in a competitive board game in our cosy family rooms.  
In addition to direct access to Day school co-curricular activities, Boarders also have access to a number of school facilities after hours and on weekends. These facilities include the Library, IT Centre, Music Rooms, Gymnasium, Pool and Tennis Courts. Whatever each girls' hobbies may be and wherever their passions may lie, we are driven to ensure our Boarders feel supported and have access to a broad range of opportunities.
To build this sense of community, it is important to us that all Boarders attend dinner together each night in the College Dining Room and attend Chapel with each other on Monday evening.
Our Rooms
Our Boarding House is at the heart of campus, housed in a combination of the beautiful Centenary Building in addition to our Burnside and Riverside wings. Our rooms are consistent of a Boarding House room type, ranging from our 2x six bed dormitories to triple, twin and single rooms. Girls who share rooms will be place with another girl from the same year group to ensure not only that bedtimes and study needs are met, but they get to build those all-important connections.
In their first year of Boarding, the girls will have the opportunity to share a spacious dorm room. All girls in Years 6 to 10 rotate rooms each term to build increasingly strong relationships within our community. This is a great opportunity for them to develop interpersonal skills, value differences, build community and think and act with increase spatial awareness. Girls in Years 11 and 12 have their own rooms, many of which boast unrivalled views of the spectacular Swan River – it is our version of a swan song for the senior girls. 
All rooms have wireless connectivity, reverse-cycle air conditioning and individual study areas. Each wing also enjoys a shared family room where the girls can mingle, and there are many nooks where they can relax on their own or with friends. Whether it is privacy they seek or company they crave, there is something for everyone in the MLC Boarding House.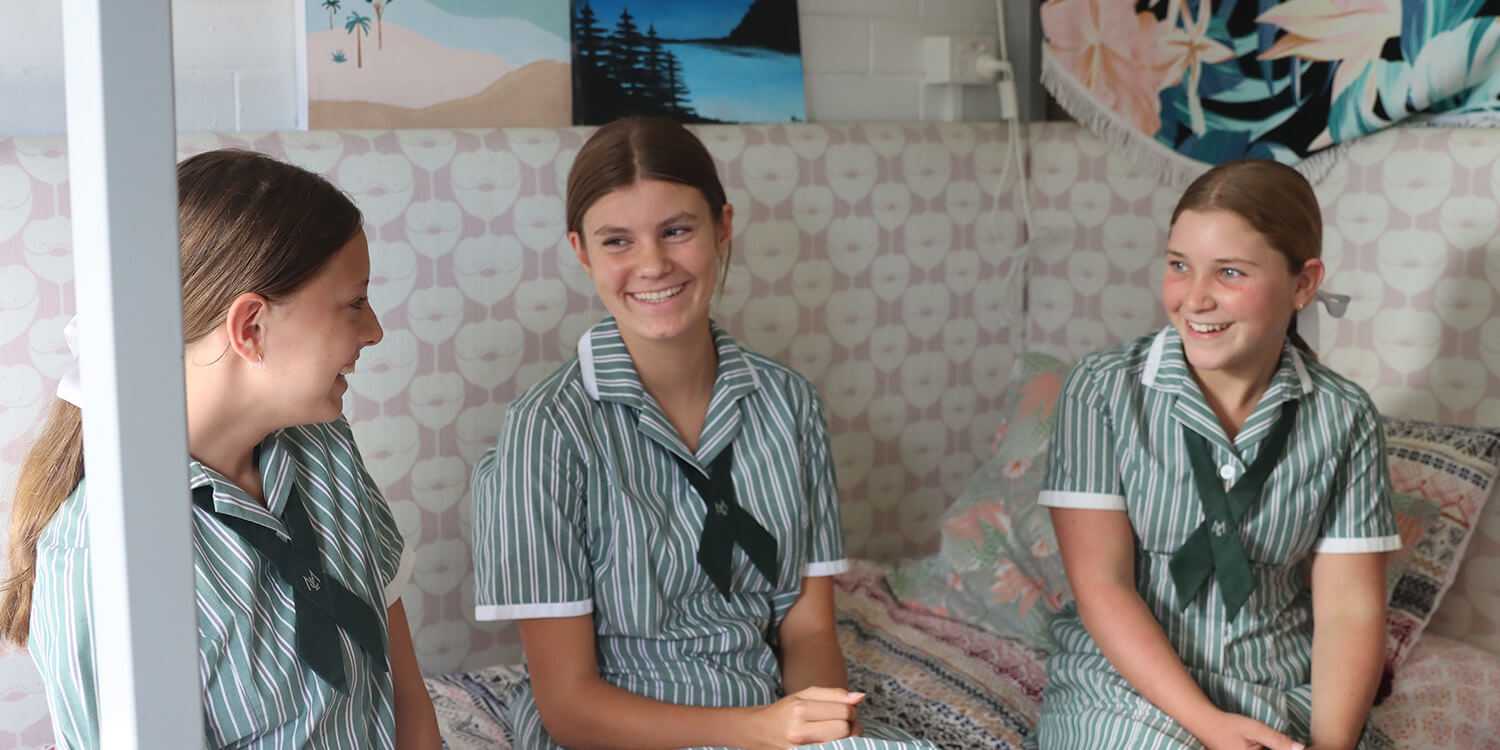 Wellbeing
Boarding Sisters
No one knows you better than your peers. That is why we created our Boarding Sisters Peer Support Leader program, which pairs our Year 7 Boarders with one or more of our older girls. The role of the Boarding Sisters is for our older girls to enjoy a leadership role as a mentor, which will help in their independence and transition to post-schooling. The program also assists the newer members of our Boarding family to transition into their new life at the College and through their formative years in MLC Boarding by providing an added layer of support and friendship. 
Prep Program
The Boarding House employs an Academic Mentor whose role is to liaise with the teaching staff to ensure continuity of learning across zones. They are supported in their role by tutors, who provide support to all Boarders and oversee prep (homework). Our Prep Program takes place in the Walter Shepherd Resource Centre each Sunday to Thursday evening. Not only is prep important for establishing rules and routines early, but access to insights and experiences from our Tutors and Academic Mentor benefits our Years 12's when applying for university and other pathways.   
Years 6-7 – 1 hour
Year 8 – 1.5 hours
Years 9-10 – 2 hours
Years 11 – 3 hours
Years 12 – 3 hours (optionally in their bedroom with open door policy)
Recreational Activities
We encourage our girls to pursue their passions, but to also have fun along the way. Our Boarders have access to a wide range of co-curricular activities inside and outside of the house. Our Recreational Officers organise a variety of weekend outings such as movies, bowling, ice skating, socials, quiz nights and more. There is always something to look forward to and no one will ever need to be sitting with nothing to do in the MLC Boarding House – that is our guarantee. 
Urban Boarding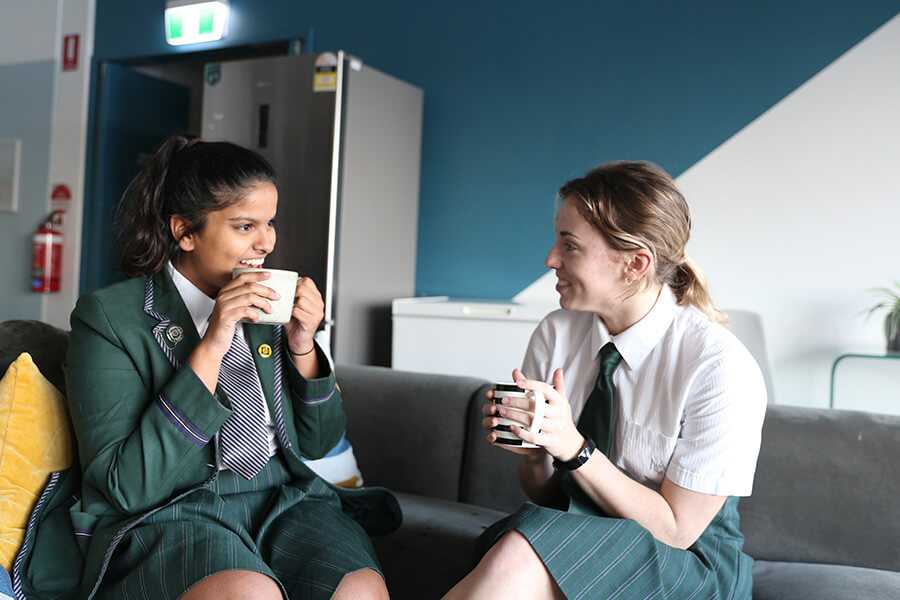 We currently offer limited places for MLC Day students to join our community as Urban Boarders. Girls in Years 6 to 12 may apply to join us for a 21-night minimum. Due to our limited capacity, we must assess availability up to one term in advance for Urban Boarding.
Urban Boarding Fees:
Minimum of 21-night stay – 5pm Sunday to 11am Sunday: $2835.00
Weekly cost thereafter: $945.00 per week
Communication 
We understand what a huge decision it is for parents to send their daughters to Boarding School. Our aim is not to replace their family, just extend it by working together with our parents to ensure we build a strong relationship which benefits the girls' best interests. Our team are on a first name basis with all of our Boarders' parents with regular and open communication encouraged. 
Visitors are always welcome, and the girls are also allowed to check out with approved hosts, enabling them to spend time with they Day School friends and family in Perth. In keeping with our duty of care practices, the Boarding Houses uses an electronic leave management system, Reach, which allows parents to receive immediate and up-to-date information regarding their daughter's whereabouts and planned activities. In sharing knowledge closely between parents, guardians, Day School and Boarding staff and girls, we can together support successful outcomes for our Boarders. 
Before Joining the Boarding House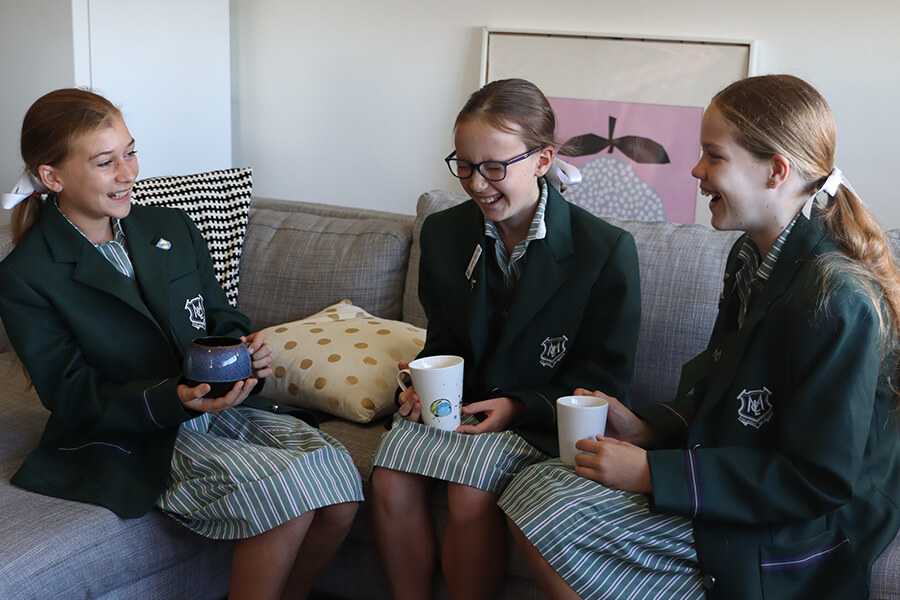 Before your daughter's exciting adventure at MLC begins, we want to get to know her and in turn, we want her to get to know us. In Term 3, a Transition Day is held for all new Boarders and Day girls. In Term 4, incoming Boarders get the opportunity to spend a night in our Boarding House to orientate themselves and meet some of our community. Each of our Boarders will also be able to complete a Boarding Ready Online Interactive program, where they meet each other and chat with our Director and Assistant Director of Boarding. They will also get the chance to interact with the rest of our team and meet their 'big sister' who has been in their shoes and will help with their transition.  
At the commencement of the school year, new Boarders arrive ahead of our returnees, allowing some extra time to settle in. At the end of the first week of school, our Boarders all enjoy a Carnival Weekend. This is a closed weekend where Boarders all attend a fun and informative program of events and get to know one another and their new surrounds. Our famed Pool Party, Lawn Water Slide and Silent Disco are some of the highlights of this weekend!
Still not sure? To experience our dynamic College, prospective Boarding students are invited to take part in the MLC Girl for a Day program. This initiative allows girls to experience a normal school day at MLC. Afterwards, girls and their parents can join us for a meal and prospective Boarders can request to spend a night in the Boarding House, where they will be assigned a student 'buddy' and can take part in all aspects of Boarding life.  
We are Family
From the moment your daughter steps into our Boarding House, she becomes a part of a special community where she will make lifelong friends. We will welcome her with open arms and cannot wait for her exciting new chapter to begin. Follow the link below to contact our Director of Boarding, Jodie Mellor via email. Jodie is available to answer any questions our current or prospective Boarding families may have.